The GrillGrate Difference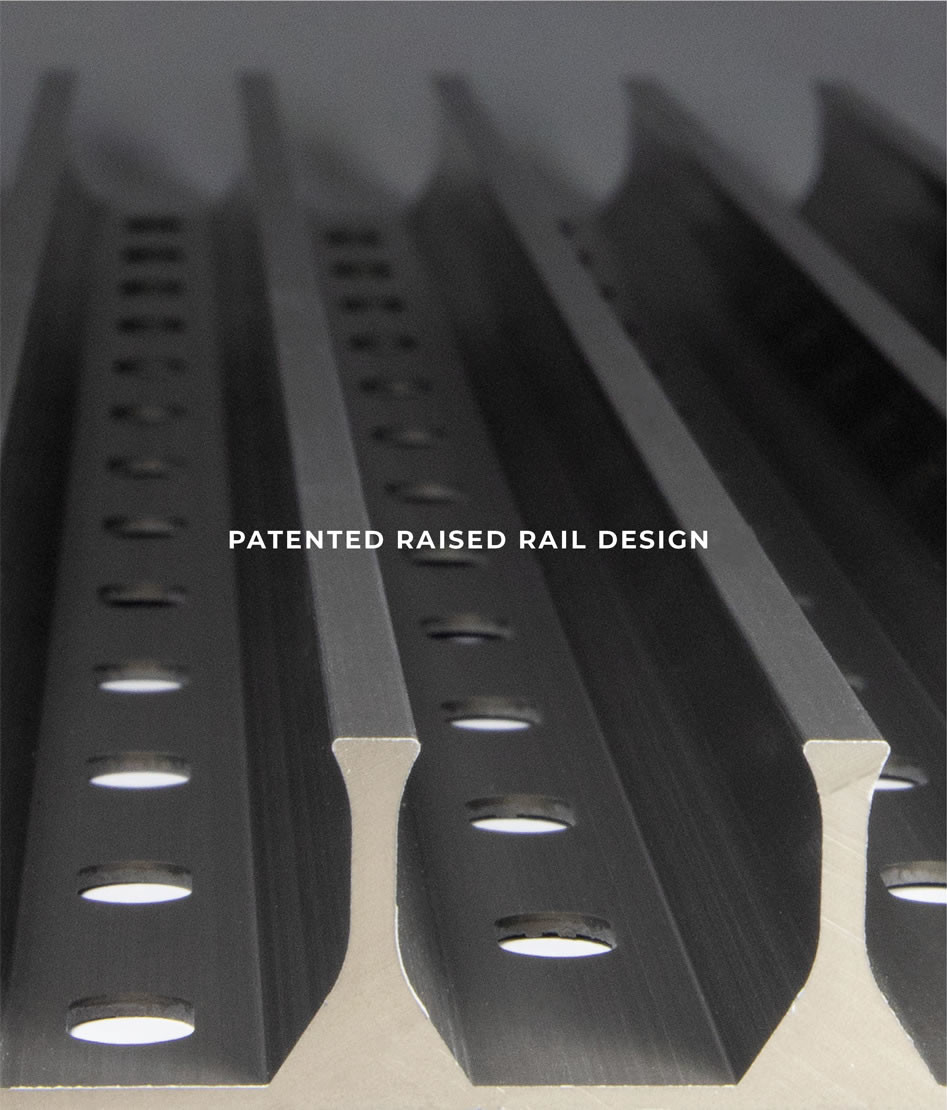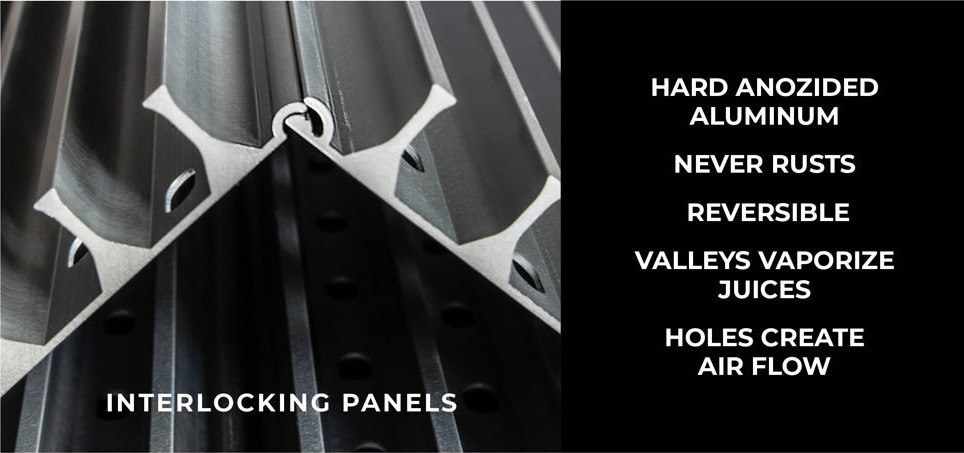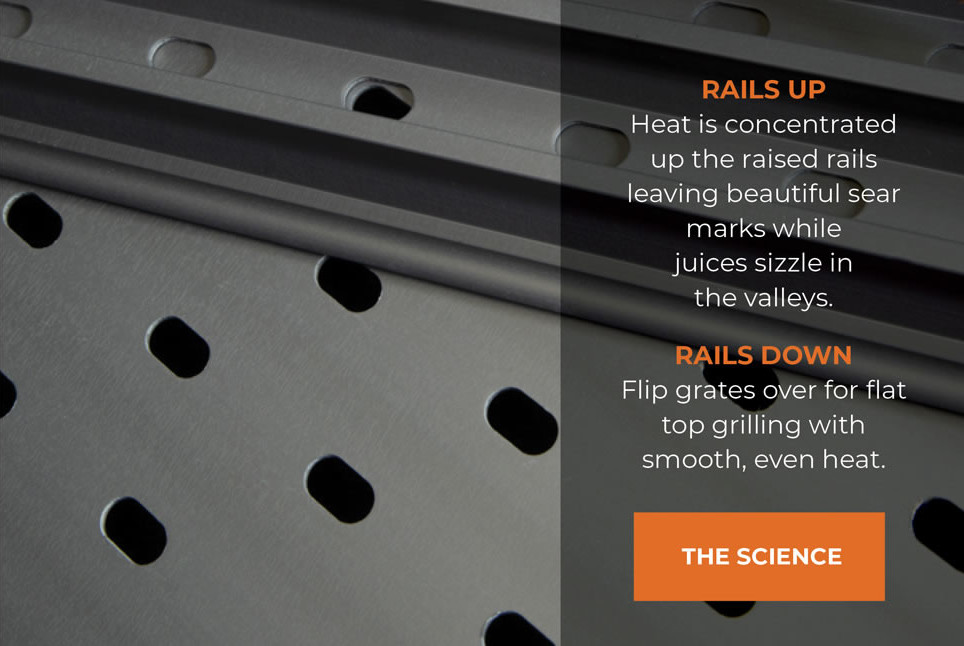 No Flare Ups
GrillGrates prevent
flames from burning,
charring, and drying
out food
Even Heat
Hard anodized
aluminum heats food
evenly. No more hot
spots or cold spots
Juicier Food
Moisture vaporizes
on the GrillGrate,
surrounding food in
flavorful steam
More Flavor
Drippings sizzle in the
valleys and back onto
the food as more flavor
Perfect Sear Marks
Heat is concentrated
up the raised rails
leaving beautiful sear
marks
Reversible Panels
Use GrillGrates rails up
for traditional grilling
or flip them over for a
flat top surface
The GrillGrate Difference
Patented Raised Rail Design
Hard Anodized Aluminum
Never Rusts
Reversible
Valleys Vaporize Juices
Holes Create Air FLow
Heat is concentrated up the raised rails leaving beautiful sear marks while juices sizzle in the valleys.
Flip grates over for flat top grilling with smooth, even heat.
No Flare Ups
Even Heat
Jucier Food
More Flavor
Perfect Sear Marks
Reversible Panels
PRECISION
GRILLING TOOLS
Flip. Grab. Serve. Clean.
HOT-OFF-THE-GRILL
FAVORITES TO EXPLORE
Everything Tastes Better Grilled on GrillGrates!
PROS LOVE
GRILLGRATES
Commercial GrillGrates and Griddles.
THE #1 OUTDOOR GRILL
SURFACE MEETS TOP
SELLING MULTI-COOKERS
Experience Indoor Grilling Magic.
"Replace your existing grill grates, and say hello to beautiful grill marks and goodbye to uneven heat on your gas grill. They can soup up a subpar grill."
- Joe Ray, WIRED
'We think GrillGrates are fantastic and worth the money! We've been using them for a couple of years. They really improved our results."
- Lazy-Q Life
"GrillGrates are amazing for searing. They increase the grill's surface temperature, they create a more consistent temperature across the surface and they deliver superior sear marks to your steak that will make your friends jealous!"
- Matt Lokay, California Grillin, as featured in CNN Underscored
"What is great about these grates, besides the excellent sear marks they provide, is that you can flip them over and use the flat side as a flat griddle for searing burgers!"
- Malu in the Kitchen
GRATE RECIPES
Master the meal like a chef.
TOP TECHNIQUES
Real scoop. Pro tips. Grilling secrets.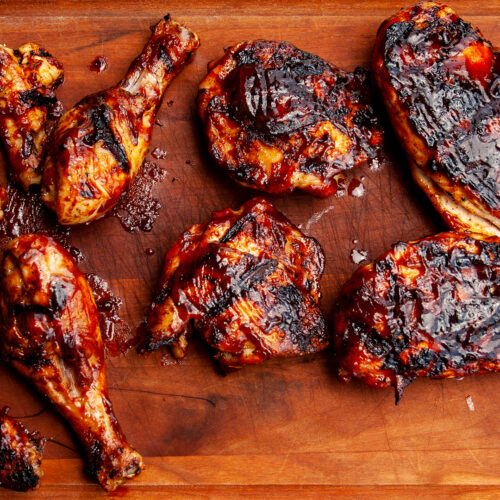 Grilling chicken (as opposed to smoking it or roasting it) presents its own unique challenges. Chicken is practically flammable on the grill, let alone when you add sauces or marinades. There's also the challenge of cooking it until it's done without overcooking it...