Print Options:
The Ultimate Grilled Breakfast Pizza
Yields
4 Servings
Prep Time15 mins
Cook Time20 mins
Total Time35 mins
The perfect way to jumpstart a tailgate! You will be the hero when you serve up this delicious feast. If you are feeding more than 5 people- consider making two pizzas. Maintaining a low grill temp...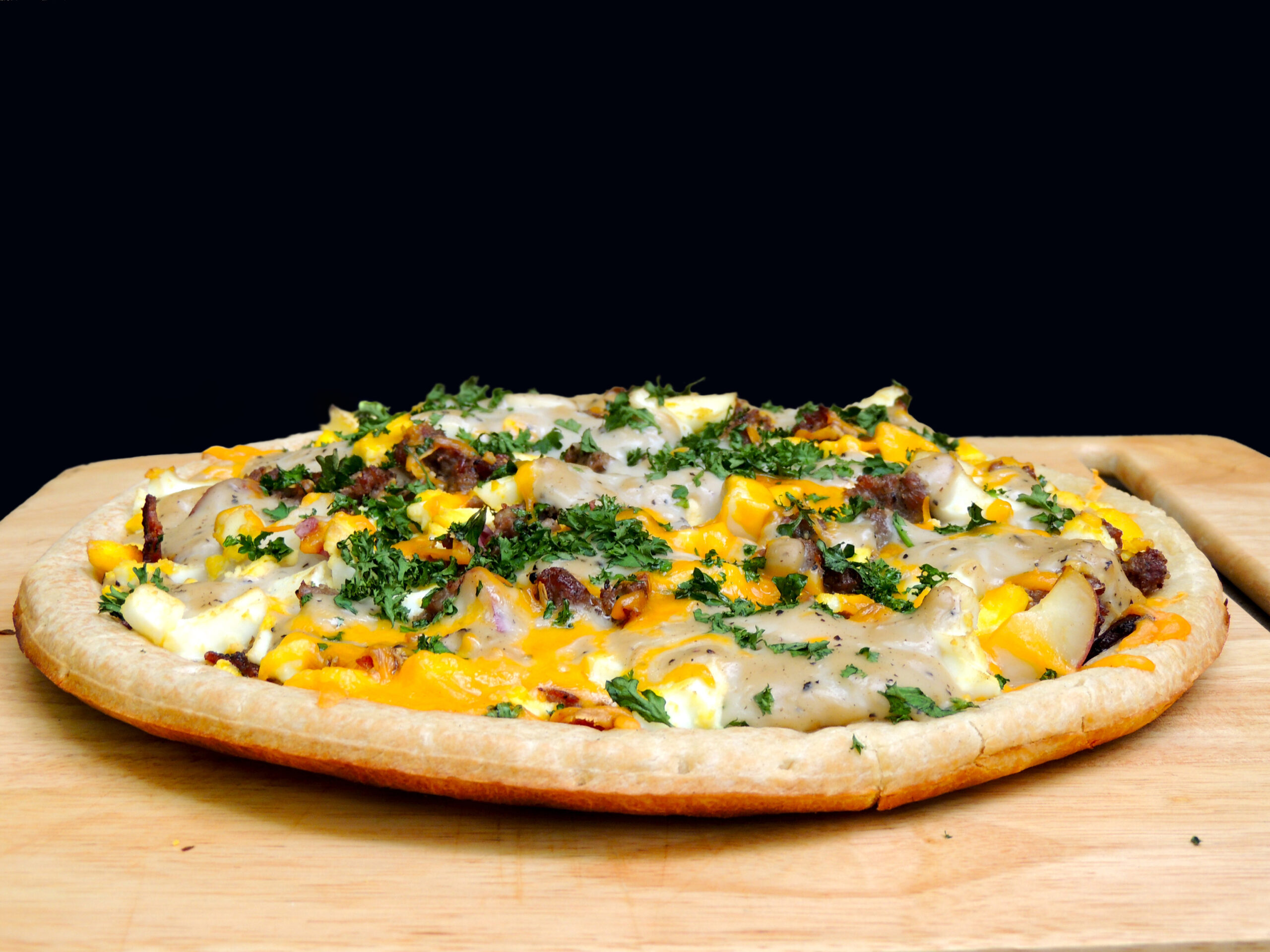 3 Hardboiled Eggs- chopped
3 Red potatoes pre-cooked and cut into chunks
6 Strips of Bacon crispy and crumbled
6 Spicy or Mild Sausage patties cooked and crumbled
1 Packet of 'White Country Sausage Flavor Gravy'
1 cup of shredded cheddar cheese
Note: All ingredients can be pre-cooked and kept cold. Making breakfast pizzas is fast and easy with everything made ahead!
1
Make the gravy according to directions on package
2
Rub olive oil onto the bottom side (grill down side) of the pizza and place on a cutting board
3
Spread 1/2 of the Gravy over the pizza crust
4
Add 3/4 of the bacon, sausage and potatoes evenly around the pie
5
Dollop the remaining gravy over the toppings
This is a LOADED Pizza and needs 20 minutes to grill and get to know itself as the gravy infuses the toppings.
Grilling Breakfast Pizza:Set Grill to MEDIUM / LOW- the objective is to have the GRILLGRATE at 350F- the hood temp will likely read 250F that's ok. The objective is to never blacken the bottom of the crust but to let it turn golden brown while the toppings cook.
7
Check the bottom 5 minutes in. Using The GrateTool, carefully rotate the pizza just a few inches in one direction if you have a nice golden sear mark on the crust. If not-GOOD- you are grilling at low temp. Check it again in 5 minutes This baby takes time.
8
Rotate slightly every 5-7 minutes - this puts a lot of area of the crust in contact with GrillGrates as you gradually turn the pizza 360 over 20 minutes.
9
Using the GrateTool remove and let stand for 2-3 minutes- Cut with a pizza cutter. Watch and listen to breakfast JOY!
Nutrition Facts
Servings 0
---
Amount Per Serving

% Daily Value *

Total Fat 57g

88

%

Saturated Fat 19g

95

%

Trans Fat 0g

Cholesterol 486mg

162

%

Sodium 1747mg

73

%

Potassium 396mg

12

%

Total Carbohydrate 44g

15

%

Dietary Fiber 2g

8

%

Sugars 3g

Protein 39g

78

%
---
Vitamin A

20

%

Vitamin C

7

%

Calcium

28

%

Iron

13

%
* Percent Daily Values are based on a 2,000 calorie diet. Your daily value may be higher or lower depending on your calorie needs.