Grilled and Seared Duck Breast
We like to refer to duck as the other red meat. The brightly flavored bird lends itself perfectly to high heat grilling much like a good ribeye steak. There are two tricks to cooking duck breast successfully: do not overcook the meat, duck breast can be served medium and grill skin side down to render as much fat as you can for crispy skin. Here is a very simple and straightforward recipe for cooking duck breast on your grill.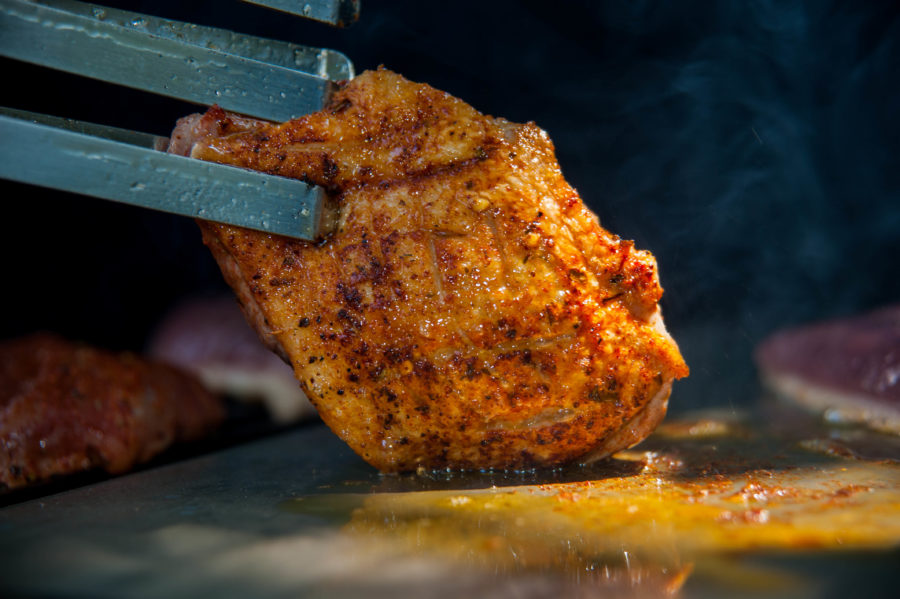 Nutrition Facts
Serving Size 1 breast
Servings 4
---
Amount Per Serving

% Daily Value *

Total Fat 18g

28

%

Saturated Fat 0g

Trans Fat 0g

Cholesterol 0mg

Sodium 280mg

12

%

Potassium 0mg

Total Carbohydrate 1g

1

%

Dietary Fiber 0g

Sugars 0g

Protein 15g

30

%
---
Vitamin A

0

%

Vitamin C

0

%

Calcium

0

%

Iron

1

%
* Percent Daily Values are based on a 2,000 calorie diet. Your daily value may be higher or lower depending on your calorie needs.
Directions
1
Remove the duck breasts from the package. Rinse under cool water and pat dry with a paper towel. Place the meat on a cutting board fat/skin side. Using a sharp knife score the skin in a checkerboard fashion being careful not to cut all the way though to the meat. Scoring the skin helps to render and crisp the skin. Season both sides well with salt and freshly cracked black pepper. You can also substitute your favorite BBQ rub for the salt and pepper if you want a little extra flavor.
2
Using the GrateGriddle or your GrillGrates preheat your grill to medium or 400F. We cooked the duck breasts both ways, some on the griddle and some on the grates. You can even start on the griddle and finish on the grates.
3
Place your duck breasts fat/skin side down on the grill and allow to cook relatively slowly so most of the fat has a chance to render from the skin, 8-10 minutes. This process will begin to cook the duck breast as well as crisp the skin. Once most of the fat has rendered and the skin has some nice caramel color you may flip the duck breasts over to the flesh side. Cook for an additional 5 minutes or until an instant read thermometer reads 160F. Remove from grill and rest for 5 minutes before slicing. Tip: slice the duck breast on a slight bias. It makes for a beautiful presentation and the meat will be even more tender. The flesh should be a solid shade of light pink. We grilled some super ripe yummy Georgia
Ingredients
4 duck breasts- skin on, boneless
fresh cracked black pepper