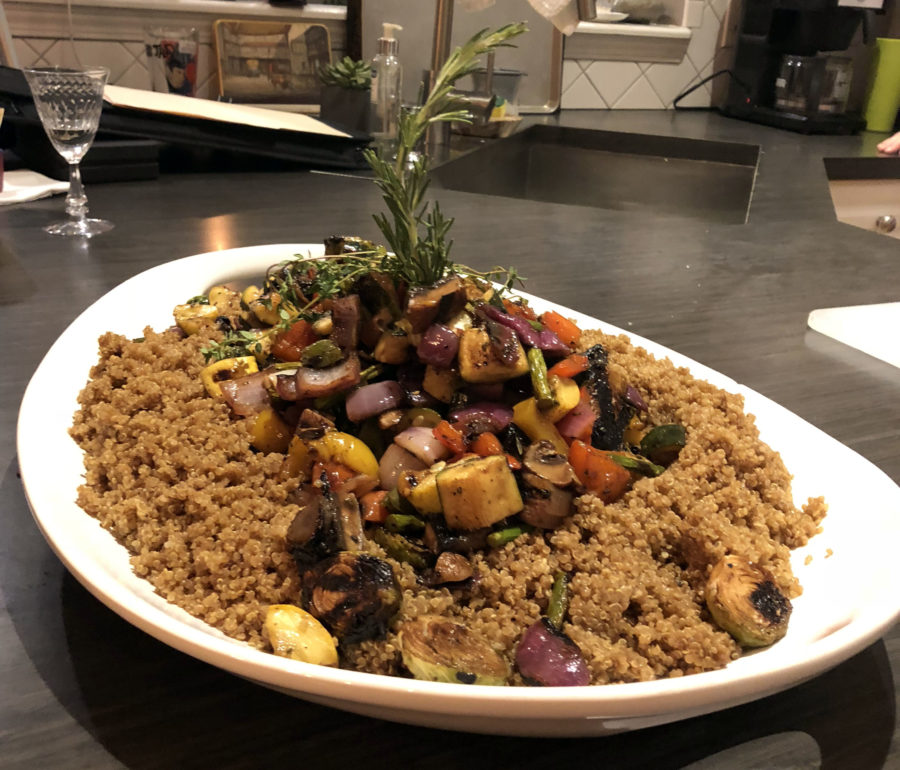 Grilled Vegetable and Toasted Quinoa Salad
This was a salad I originally came up with this past summer for one of our Friday Night Steak Club events out on the grilling deck. Quinoa has been hailed as a "super grain" due to the facts it has almost twice as much fiber as most other grains and contains all 9 essential amino acids. The quinoa is toasted and then cooked in some beef broth which ends up with an incredibly savory umami flavor. Vegetables are simply grilled and rough chopped to go into the salad. Feel free to use whatever vegetables that happen to be available and good quality in your area.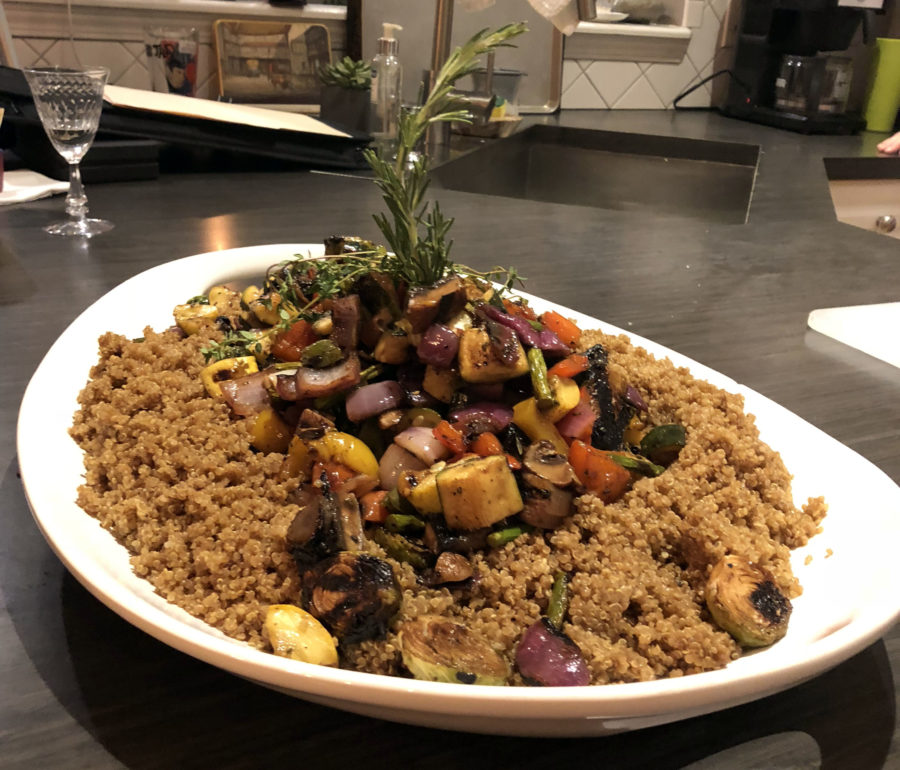 Nutrition Facts
Servings 10
---
Amount Per Serving

% Daily Value *

Total Fat 8g

13

%

Saturated Fat 1g

5

%

Trans Fat 0g

Cholesterol 0mg

Sodium 412mg

18

%

Potassium 492mg

15

%

Total Carbohydrate 35g

12

%

Dietary Fiber 5g

20

%

Sugars 7g

Protein 9g

18

%
---
Vitamin A

18

%

Vitamin C

162

%

Calcium

22

%

Iron

8

%
* Percent Daily Values are based on a 2,000 calorie diet. Your daily value may be higher or lower depending on your calorie needs.
Directions
For Quinoa:
1
Rinse the quinoa: Measure 2 cup of quinoa and place into a fine-mesh strainer. Rinse thoroughly with cool water for about 2 minutes. Rub and swish the quinoa with your hand while rinsing. Drain.
2
Toast quinoa in saucepan (optional): Heat a drizzle of olive oil in the saucepan over medium-high heat, and add the garlic and shallot. Allow to brown slightly then add the quinoa. Cook, stirring, for about 1 minute to let the water evaporate and toast the quinoa.
3
Add liquid and bring to a boil: Stir in 4 cups of broth and the salt. Bring to a rolling boil.
4
Lower heat and cook, covered, for 15 minutes. Turn heat down to the lowest setting. Cover and cook for 15 minutes.
5
Let stand, covered, for 5 minutes: Remove the pot from heat and let stand for 5 more minutes, covered. Don't peek!
For the Grilled Vegetables
7
Place all the veggies in their own mixing bowl. Drizzle with olive oil, balsamic, garlic, rosemary, thyme, chili flakes, salt and pepper. Toss to coat veggies evenly.
8
Preheat grill to medium high. Place the veggies on the grill and allow all to cook until tender. A little char is Ok and will add to the flavor.
9
Remove veggies from grill. Allow to cool before chopping into bite size pieces.
11
Combine chopped grilled vegetables and quinoa in a large bowl. Drizzle with additional olive oil and adjust seasoning. You may want more balsamic to brighten the salad.
Ingredients
6 cloves garlic, minced- divided in half
1 each red pepper, green pepper, yellow pepper- stem and seeds removed, cut into large pieces
1 large red onion- peeled and sliced into ¾ inch discs
1-pound Brussel sprouts, stemmed and cut in half
3 portabella mushrooms, stems removed
1 bunch asparagus- white tips removed
1 large zucchini- cut in in thirds lengthwise
1 large yellow squash- cut in thirds lengthwise
2 t minced fresh rosemary