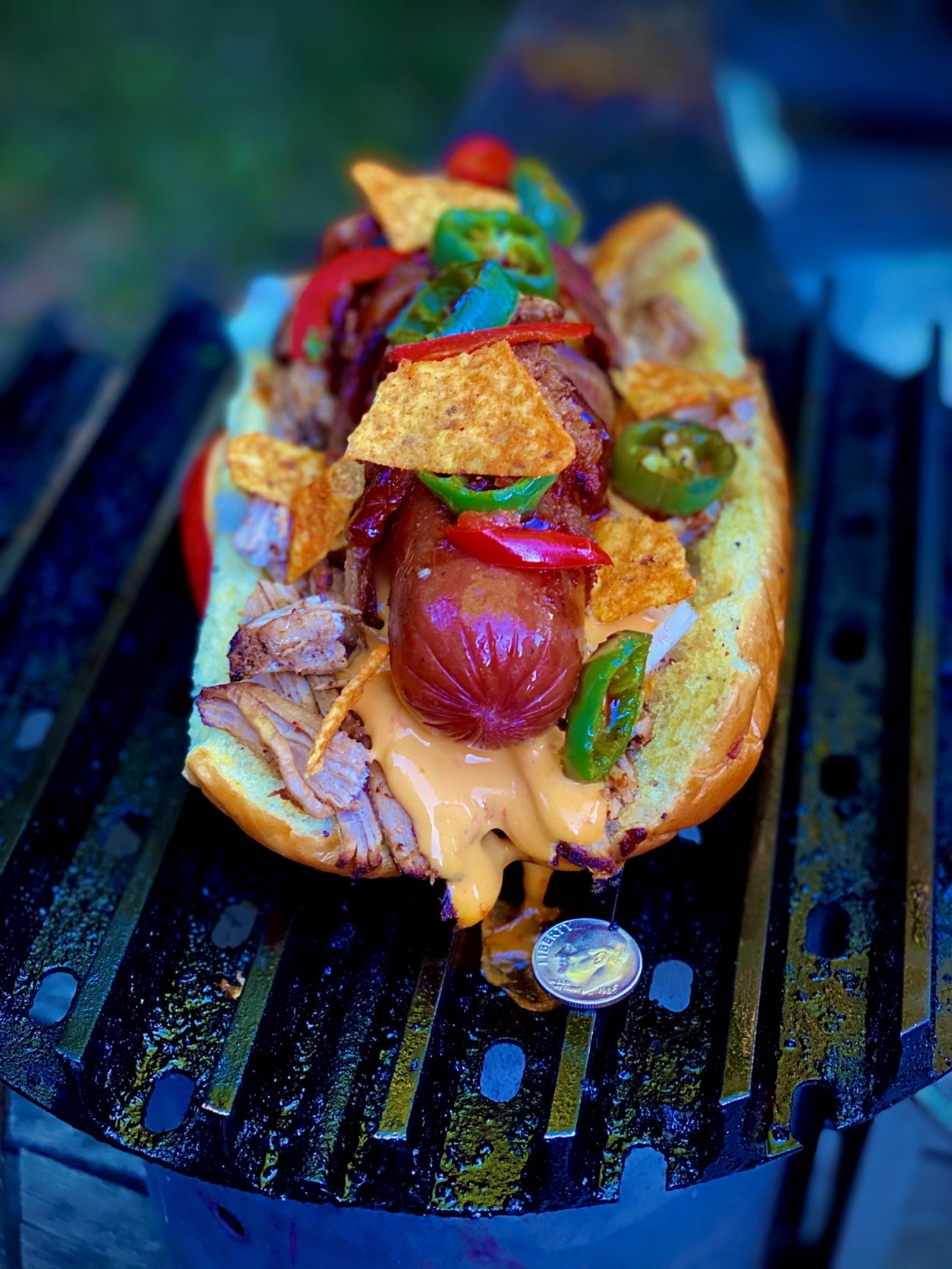 Nutrition Facts
Serving Size 1 hot dog
Servings 6
---
Amount Per Serving

% Daily Value *

Total Fat 54g

84

%

Saturated Fat 1g

5

%

Cholesterol 35mg

12

%

Sodium 1949mg

82

%

Potassium 214mg

7

%

Total Carbohydrate 56g

19

%

Dietary Fiber 7g

29

%

Sugars 5g

Protein 24g

48

%
---
Vitamin A

3

%

Vitamin C

7

%

Calcium

4

%

Iron

10

%
* Percent Daily Values are based on a 2,000 calorie diet. Your daily value may be higher or lower depending on your calorie needs.
Directions
1
Get your Tribal Fire Grill, www.grillin360.com, going with a hot chimney of B&B Charcoal and some chunks of mesquite wood for extra southwest flavor! Once fuel is in the fuel basket and the grill is burning hot, clean the surface of the flat top with a little oil and a paper towel. Wiping around the complete surface to remove and ash and any residue before cooking.
2
Place GrillGrate Swing Arm direct over fire center grate, elevated to control the desired medium / high heat. Place hotdogs on hot GrillGrate Swing Arm, rotating hotdogs constantly to cook evenly. Toast your hotdog buns on the GrillGrate as well. Reserve warm for service.
3
Place jalapenos, red pepper, and onions in a small mixing bowl. Toss with 1 tablespoon of canola oil and dry rub seasoning. Grill peppers and onions on Tribal Fire Grill flattop, being sure to turn and cook vegetables evenly with a spatula or tongs. Cook until just tender and onion cooked through opaque. Remove and reserve cooked peppers and onions for service.
4
Place Nacho Cheese in a small saucepot and place on Tribal fire Grill flattop, stirring occasionally until hot. Move to elevated swing arm to remove from heat if too hot on the flat top. Reserve hot for service.
5
With a tablespoon of canola oil on the hot flat top, spread on the surface, and add the pulled Carnitas until heated through, turning with tongs. Reserve warm for service.
6
To build the Mexican Nacho Hotdog place grilled hotdog in a toasted bun. Then top the hotdog with ingredients in order of the pulled Carnitas, nacho cheese, sautéed peppers and onions, and Pico de Gallo. Crush Doritos and finish for a topper.
Ingredients
6
Hotdogs (or Chorizo Sausages)
6
oz
Pulled Mexican Carnitas
10
fl oz
Nacho Cheese Sauce
10
oz
Pico de Gallo (or preferred salsa)
2
fresh Jalapeno Pepper, sliced
1
red pepper, sliced julienne thin
1
white onion, sliced julienne thin
1
tbsp
B Xtreme Fajita Dust (or preferred dry rub)