This past spring at a trade show in Las Vegas we were continually entranced by the smell of bacon. This was not any ordinary bacon, this was extraordinary duck bacon from Maple Leaf Farms. Upon meeting the fine folks from Maple Leaf Farms duck has made its way onto our radar and onto our GrillGrates. The rich red meat of duck is a natural on the grill. Like beef and lamb, duck meat should not be cooked all the way through or else it will dry out. Here is an Asian inspired recipe that is full of flavor and low on fat.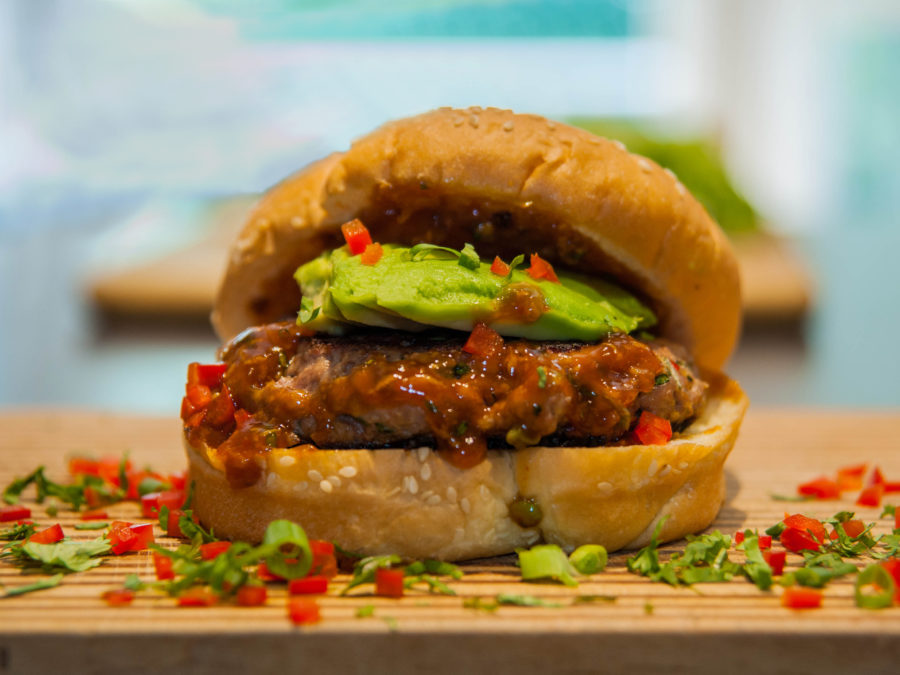 Nutrition Facts
Serving Size 1 Duck Burger
Servings 4
---
Amount Per Serving

% Daily Value *

Total Fat 23g

36

%

Saturated Fat 5g

25

%

Trans Fat 0g

Cholesterol 118mg

40

%

Sodium 611mg

26

%

Potassium 230mg

7

%

Total Carbohydrate 38g

13

%

Dietary Fiber 5g

20

%

Sugars 10g

Protein 21g

42

%
---
Vitamin A

6

%

Vitamin C

23

%

Calcium

2

%

Iron

2

%
* Percent Daily Values are based on a 2,000 calorie diet. Your daily value may be higher or lower depending on your calorie needs.
Directions
1
In a metal mixing bowl combine all of the ingredients for the duck burger. Be careful not to over work the mixture as this could make the burgers tough. Once the ingredients are combined cover the mixing bowl and refrigerate for at least a half an hour so the flavors have a chance to develop.
3
Preheat grill to 400-500F. For this recipe we had the best results using the GrateGriddle on top of GrillGrates. The duck burgers can be cooked on GrillGrates but will need some extra care when you go to make the flip.
5
Remove the mixing bowl from the refrigerator and form 4 equal size duck burger patties. Spread/spray a bit of oil on your griddle or grates right before you begin cooking. Place the patties on your GrateGriddle (or GrillGrates) and close the lid. After two minutes lift and twist your duck burgers 90 degrees. Close lid and cook for an additional 2 minutes and then flip the burgers. Continue to cook for an additional minute or two or until the interior of the duck burger is 150F. Remove from grill.
6
Spread 1 tablespoon of duck sauce on each bun and then the duck burger. Garnish with sliced avocado.
Ingredients
For duck burger
1 pound Maple Leaf Farms ground duck
2 green onions, white part removed, sliced thinly
1 small red pepper, diced small
2 tablespoons minced cilantro
2 teaspoons minced fresh ginger
4 tablespoons panko breadcrumbs
1 tablespoon sambal/sriracha or other Asian hot sauce
To finish
4 sesame seed burger buns
1 avocado, quartered and sliced