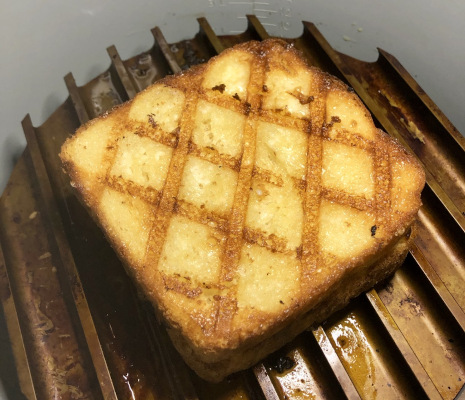 Directions
1Set the SearNSizzle™ to the middle position and broil for 5 minutes to preheat.
2While preheating, slather one side of each of the bread pieces with mayonnaise.
3Once the SearNSizzle™ is preheated, place one slice of bread on the SearNSizzle™ with the mayonnaise side down. Top the bread with the cheese slices and then with the bread mayonnaise side up.
4Adjust the cooker to air fry at 390 F and cook for three minutes per side flipping once or until your desired doneness.
This grilled cheese can be prepared with the rails of the SearNSizzle™ facing up for a grilled look or on the griddle side of the SearNSizzle™ for an overall browned consistency. 
The mayonnaise makes this dish extremely rich and decadent tasting. If you prefer to use half the amount of cheese in this recipe the sandwich will be just as delicious with slightly less richness.