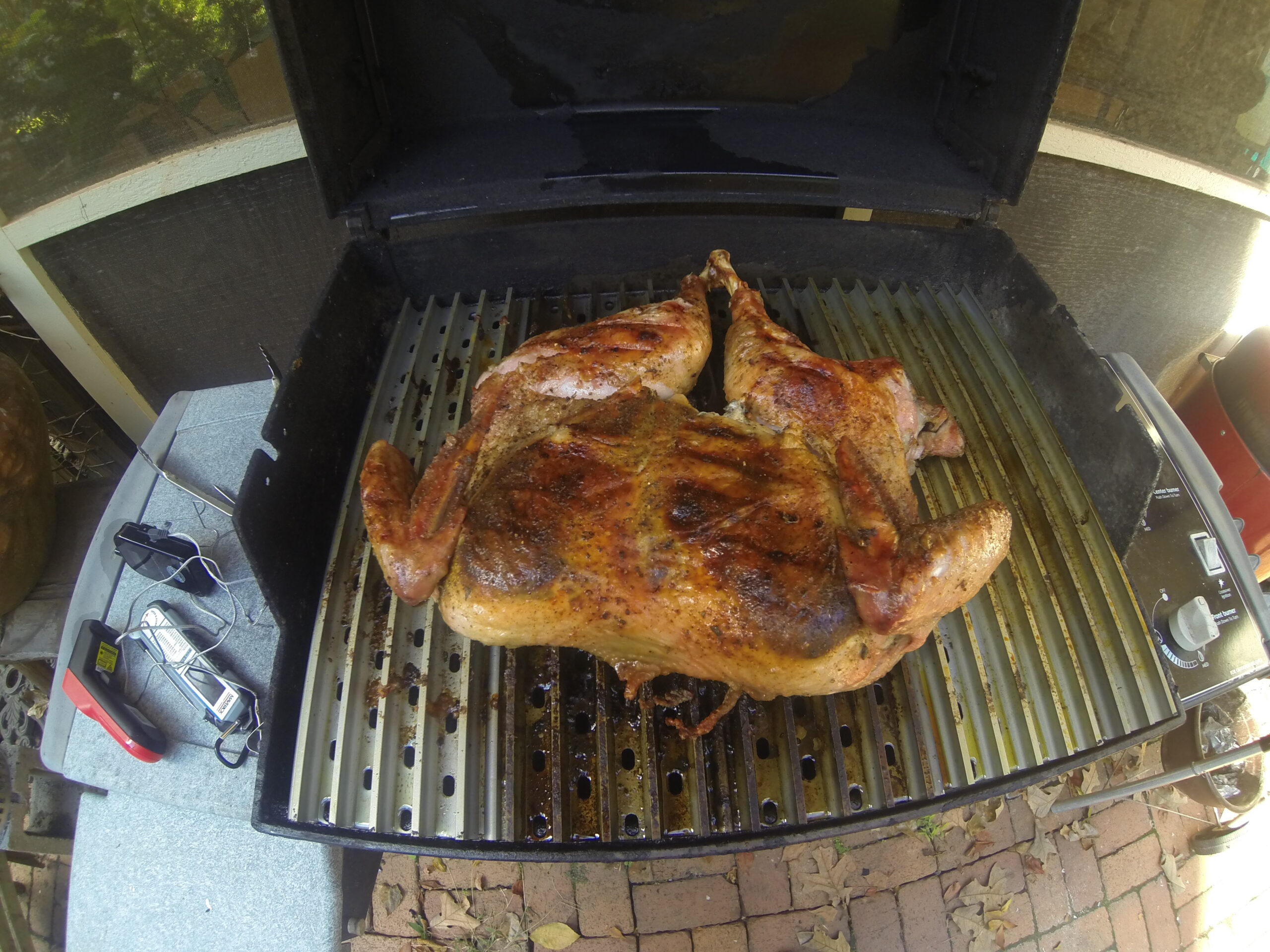 Spatchcocked and Brined Grilled Turkey
Spatchcocking has really gained interest in the last few years. It's a Grate way to cook a bird much more evenly and in less time! Why not take your turkey outdoors this year and free up the much coveted oven space during this holiday season? Have your butcher spatchcock the turkey for you if you are not confident in your own abilities. The brine is quick and easy yet it adds a tremendous amount of flavor and helps retain moisture.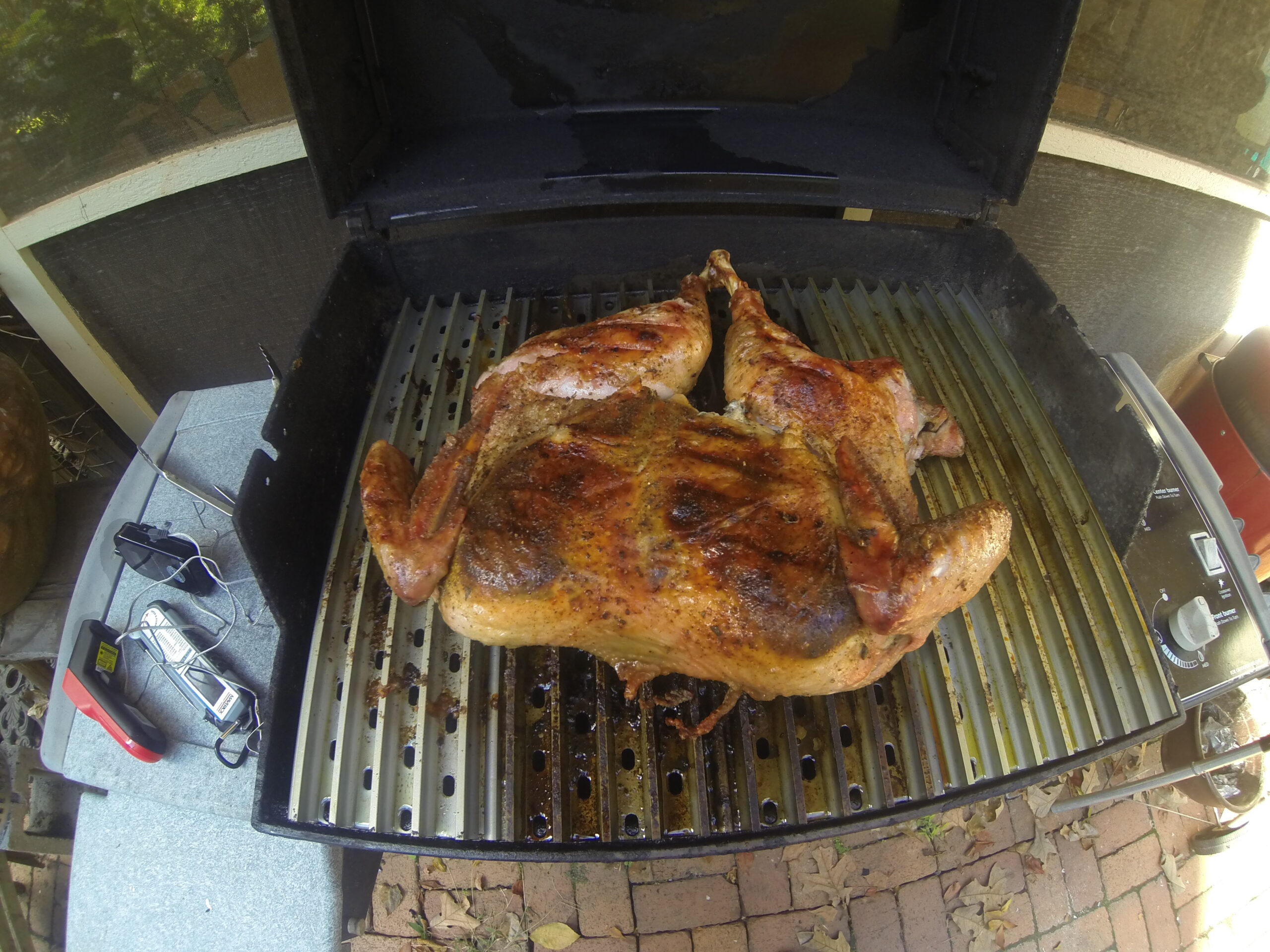 Nutrition Facts
Servings 8
---
Amount Per Serving

% Daily Value *

Total Fat 49g

76

%

Saturated Fat 12g

60

%

Trans Fat 0g

Cholesterol 289mg

97

%

Sodium 552mg

23

%

Potassium 135mg

4

%

Total Carbohydrate 2g

1

%

Dietary Fiber 0g

Sugars 0g

Protein 70g

140

%
---
Vitamin A

6

%

Vitamin C

2

%

Calcium

4

%

Iron

4

%
* Percent Daily Values are based on a 2,000 calorie diet. Your daily value may be higher or lower depending on your calorie needs.
Directions
Preparation:
1
Spatchcock your turkey (have your butcher do this or see this video instructional ). A clean pair of garden shears does this job really well!
2
Prepare your brine by combining the cold water with the salt and sugar in a large bucket or cooler. Stir with a wire whisk until the salt and sugar are completely dissolved. Add the remaining ingredients to the brine and whisk thoroughly.
3
Place the spatchcocked turkey into your brine and make sure it stays submerged in the liquid. Refrigerate for at least 6 hours or overnight if possible. A cooler works well for this if you don't have a refrigerator large enough, just replace a gallon of water with a gallon and a half of ice cubes. If your using the cooler method be sure to check every few hours to be sure you still have some ice and your brine isn't getting too warm.
4
Remove the turkey from the brine and rinse well under cold water, pat dry.
5
Now let's get that bird ready to grill. Combine the bacon, fresh sage, fresh thyme, black pepper and mayonnaise in a small bowl- set aside. Carefully pull the skin up from the turkey's breast and thighs to create "pockets". Gently stuff the bacon mixture evenly between the skin and the meat to the best of your ability, it can be a bit tricky so be careful not to rip the skin. Once the bird is "stuffed" season it with a nice dusting of poultry seasoning- feel free to use your favorite spice blend in place of the poultry seasoning to add your own flair.
Grilling Instructions:
6
This a slow and low method to retain maximum moisture in your bird. Preheat your grill to 400F ambient temperature. Place the spatchcocked turkey bone side down on your seasoned grates. Close your lid and after five to ten minutes reduce the heat in your grill to 240-260F ambient temperature. This is where a dual probe remote thermometer comes in very handy. Probe the thickest part of the breast and place the other probe on a leg bone. Cook bone side down for about about 90 minutes or until the internal temp of the breast is hitting 130F, rotate the bird 90 degrees once during this time. Prepare to flip your turkey, take care with this part, use a couple pairs of tongs or a combo of tongs and a GrateTool. You may even use some gloves and your hands to help steady it during the flip. The last thing you want is for the bird to separate or to tear the skin and ruin your presentation. Cook for another +/- 60 minutes rotating the turkey 90 degrees once. When the internal temp of the breast reaches 160F you're basically ready. Check the temp of the thigh next to the bone, it should be closer to +/- 180F. Remove the turkey from the grill and cover with foil until ready to serve.
Ingredients
Brine:
2 tablespoons poultry seasoning
2 tablespoons cracked black pepper
2 teaspoons cayenne pepper
Turkey:
1 12-16 pound whole turkey
1 pound of bacon, cooked and chopped coarsely
3 tablespoons fresh minced sage
2 tablespoons fresh minced thyme
12-15 grinds black pepper
1 tablespoon poultry seasoning