Print Options:
Swedish Hasselback Pit Roasted Cheesy Bacon Potatoes
If you've never tried roasting potatoes in your smoker you'll be pleasantly surprised that the flavor is better than doing it in the oven. This recipe for pit roasted Swedish Hasselback potatoes works well for a formal dinner or a backyard party. You can also cook this ahead and reheat when you arrive at your event (save the topping until before you serve). I sped up the cooking process by microwaving the potato first. I've also taken these to a tailgate and a camping trip and they were a huge hit.
This method of preparing potatoes was invented in the 1950's at the Hasselbacken Restaurant, now attached to a hotel in central Stockholm, Sweden. The hotel was established in the 1700s as an inn and was originally a traditional red hut in the midst of a hazelnut trees, which is how it got its name. Restaurant Hasselbacken opened in 1853 in a grand new building and Hasselbackspotatis were first served in the 1950s and were an instant hit and have become popular all over the world.
It looks intricate with its accordion pleats fanning out as you cook it and is easy to make. All you need is to place two wooden cooking spoons next to your potato and a sharp knife to cut down ¾ way until the spoon handles stop the knife. You can also dress it up many ways for a show-stopping presentation with Parmesan, bacon, Cheese Whiz, sour cream, chives, and pretty much anything that goes with a baked potato.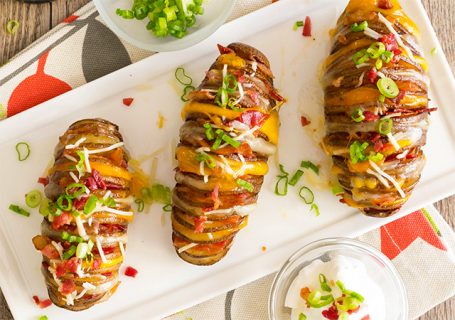 4
baking potatoes (about 6oz each)
1
stick of unsalted butter, melted
12
slices of cooked bacon, each broken into 4 pieces
4
oz
cheese slices (sharp cheddar or Pepperjack work well), cut into squares to fit the potato (24 pieces)
2
tbsp
grated parmesan cheese
1
tbsp
chopped green onions/chives
1
Rinse your baking potatoes. You can peel or leave the skin on. I like the skin on. Cut a small slice off the bottom so it sits flat. Place two wooden spoons opposite the long sides of the potato before you make ⅛ inch-thin slices. The wooden spoons prevent you from cutting all the way through the potatoes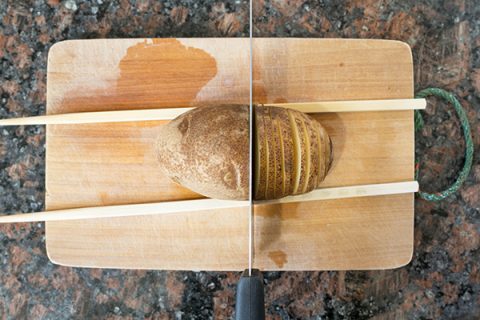 2
Heat your smoker to 450F with a direct and indirect zone
3
Sprinkle a light coat of SYD rub all over the cut potatoes, place in glass bowl and microwave until the potatoes are tender but not dried out (it took about 8 minutes, on baked potato setting, in my Sharp microwave).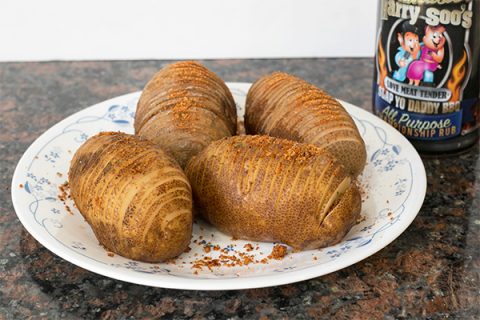 4
Place in a disposable foil pan and brush liberally with the melted butter.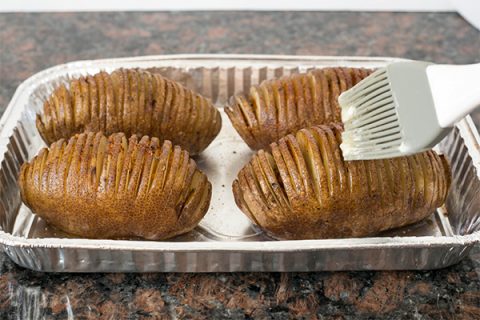 5
Transfer to grill and cook until tender (about 15 minutes!)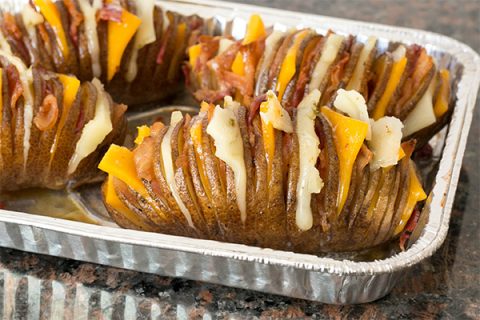 Nutrition Facts
Serving Size 1 potato
Servings 0
---
Amount Per Serving

% Daily Value *

Total Fat 49g

76

%

Saturated Fat 30g

150

%

Trans Fat 0g

Cholesterol 116mg

39

%

Sodium 1561mg

66

%

Potassium 139mg

4

%

Total Carbohydrate 87g

29

%

Dietary Fiber 0g

Sugars 14g

Protein 32g

64

%
---
Vitamin A

29

%

Vitamin C

0

%

Calcium

82

%

Iron

0

%
* Percent Daily Values are based on a 2,000 calorie diet. Your daily value may be higher or lower depending on your calorie needs.