Carefree grilling and juicier food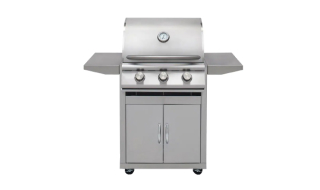 Say hello to carefree gas grilling
With GrillGrates, flare-ups are no longer a concern as the bottom plate blocks flames, making burnt, charred and dry food a thing of the past. Hard anodized aluminum GrillGrates conduct heat evenly, so you have no more hot and cold spots! The direct heat delivered by our patented raised rail design easily locks moisture and flavor into your food - where it should be. Your new secret weapon will bring you from everyday grill enthusiast to newly crowned neighborhood GrillMaster known for creating professional level sear marks every time. Or, flip the grates over for a griddle surface perfect for smashburgers, eggs, and an all-over crust.
*Note: While we recommend replacing your stock grates on gas grills for maximum fuel efficiency, you can also use GrillGrates on top of your existing grates.
GrillGrates are as low maintenance as it gets! Check out these quick and easy cleaning tips to keep your grates in good shape and ready for their next use. Learn More
"GrillGrates will truly up your grill game. Everything comes out juicy and seared to perfection. You'll never grill without them again."
"These are absolutely fantastic. Super hot. Even heat. No flare ups. They're even easy to clean, surprisingly enough. I wish I had purchased them years ago."
"Wonderful! A MUST for All Serious Grillers!"
"Works better than cast iron grates, easier to clean and sear marks are more pronounced."