Stress-free protected high heat grilling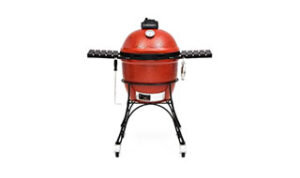 More control and flexibility of your Kamado
Reversible, interlocking panels sit on top of your existing grates, acting as a flame shield to allow for protected, controlled grilling at higher temperatures. 
How? More control and flexibility are two reasons why kamado grillers call GrillGrates an essential accessory for GrillMasters. The patented raised rail design concentrates heat and keeps the juices sizzling with the food via unique valleys - all without feeding the flames or charring your food. The non-stick hard anodized aluminum grates even out hot and cold spots, help you gain control of your entire cooking surface, and produce juicier, more flavorful food. Get steakhouse-quality sear marks, or flip the grates over for a griddle surface perfect for smashburgers, eggs, and an all-over sear. Fill the grill with fatty meats and feel free to pour marinades right over- with GrillGrates, you're saying goodbye to flare-ups and hello to flavor.
IMPORTANT NOTE: We do NOT recommend covering the entire surface of your Kamado with GrillGrates, as this could trap too much heat. This is why you'll notice our Kamado sets are made to accessorize the existing grill surface, not replace it. 
GrillGrates are as low maintenance as it gets! Check out these quick and easy cleaning tips to keep your grates in good shape and ready for their next use. Learn More 
"GrillGrates will truly up your grill game. Everything comes out juicy and seared to perfection. You'll never grill without them again."
"Perfect fit. Perfect sear marks. Minimized flame ups. The BEST tasting and BEST looking food!"
"Works better than cast iron grates, easier to clean and sear marks are more pronounced."
"Perfectly grilled steaks, burgers and chicken. Best grill investment I had made so far. You wont be disappointed."