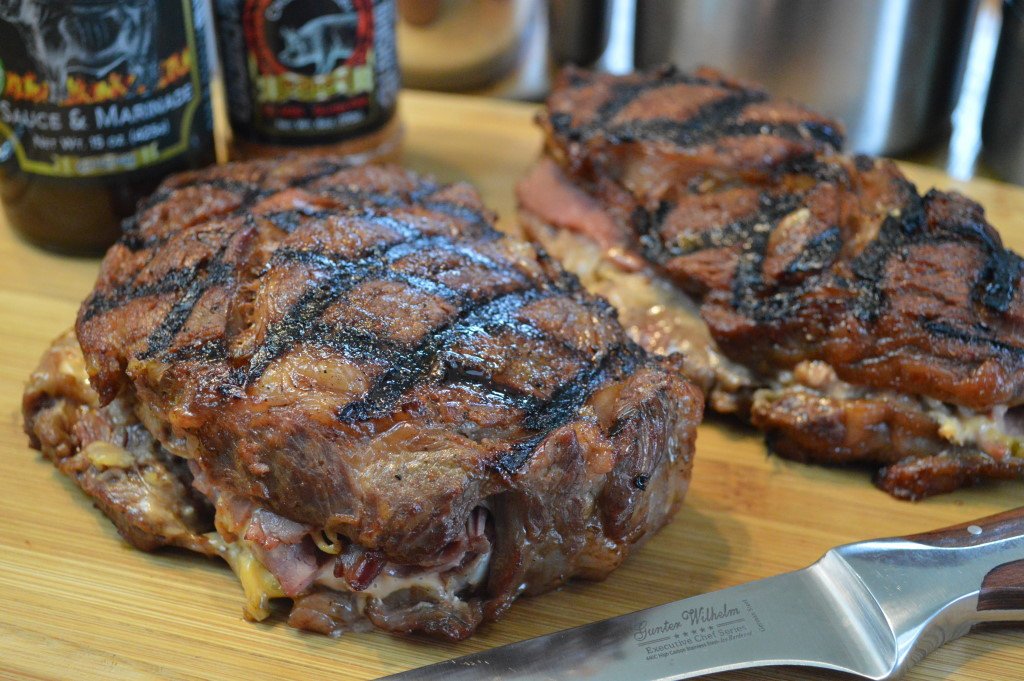 Croix Valley Spicy Reuben-Stuffed Ribeyes
Looking to bend the rules a little and up the "steaks"?  This killer recipe for Spicy Reuben-Stuffed Ribeyes may be just the answer!  Ribeye steak, marinated and rubbed, stuffed with Corned Beef, Sauerkraut and 1000 Island and grilled the way you like it is sure to please any time you fire up the grill!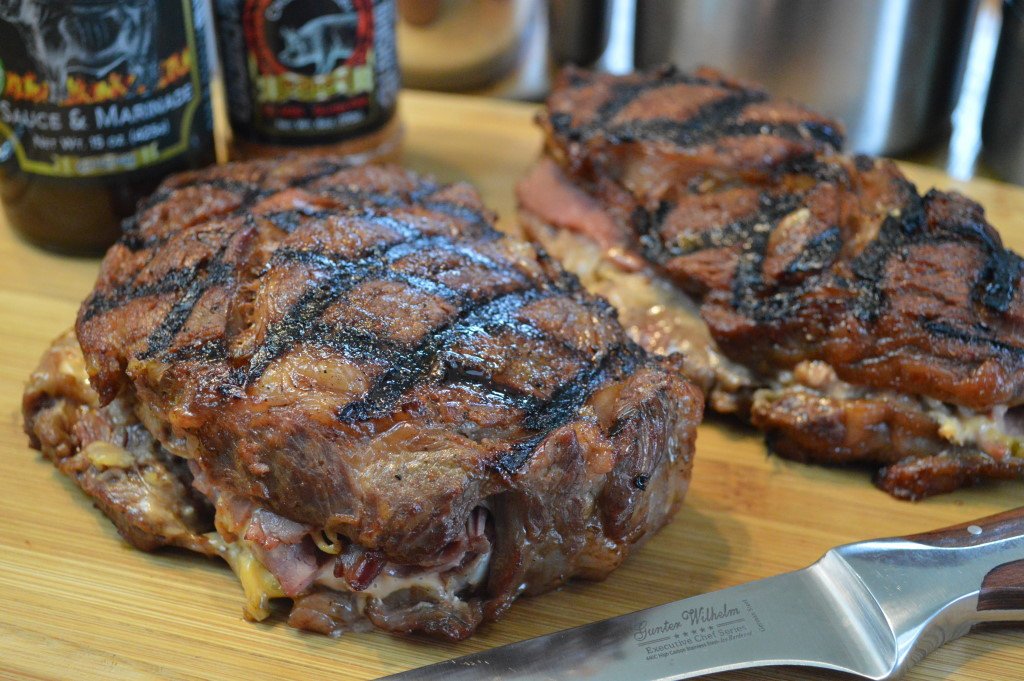 Nutrition Facts
Serving Size 1 steak
Servings 2
---
Amount Per Serving

% Daily Value *

Total Fat 135g

208

%

Saturated Fat 4g

20

%

Trans Fat 0g

Cholesterol 27mg

9

%

Sodium 1538mg

65

%

Potassium 85mg

3

%

Total Carbohydrate 37g

13

%

Dietary Fiber 2g

8

%

Sugars 32g

Protein 51g

102

%
---
Vitamin A

4

%

Vitamin C

13

%

Calcium

3

%

Iron

49

%
* Percent Daily Values are based on a 2,000 calorie diet. Your daily value may be higher or lower depending on your calorie needs.
Directions
1
To begin, start out with some THICK Ribeye steaks, at least 1.5" or larger. Cut slits into the steaks to form a pocket, but ensure you do not cut all the way through. Next, transfer the steaks into a container (or zippered storage bag) for easy marinating. Brush the steaks on all sides with a generous coat of Croix Valley Hot 'n Spicy Sauce & Marinade. As our marinade is thicker than other commercially-available marinades, there is no need to "cover" the steaks completely, rather by brushing it on, it will adhere to the meat perfectly and penetrate flavor deep within the meat. Cover and refrigerate for about 2 hours.
2
Remove from refrigerator and allow the steaks to rest and come up near room temperature for at least 20 minutes. Stuff the steaks with as much Corned Beef, Sauerkraut and 1000 Island Dressing you like and place on a 400-500 degree grill and grill to desired doneness. For a stuffed steak this size, keep in mind that it may take up to twice as long to reach the internal temperature that you are looking for.
3
Once done, rest the steaks before slicing to allow the internal juices to redistribute and prevent it from running all over your plate.
4
TIP: For a true Reuben experience, melt Swiss cheese on top of steak during the last 2 minutes of grilling for a real slice of authenticity!
Ingredients
Supplies
Container or Zippered Storage Bag
Ingredients
Croix Valley Hot 'n Spicy Sauce & Marinade
THICK Ribeyes (1.5" or larger)