Mexican Grilled Chicken Kabobs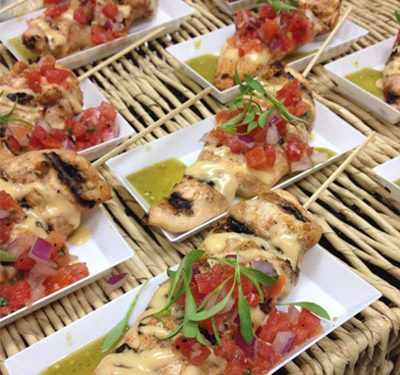 Nutrition Facts
Serving Size 1 Chicken Kabob
Servings 6
---
Amount Per Serving

% Daily Value *

Total Fat 37g

57

%

Saturated Fat 6g

30

%

Cholesterol 18mg

6

%

Sodium 1009mg

43

%

Potassium 264mg

8

%

Total Carbohydrate 15g

5

%

Dietary Fiber 4g

16

%

Sugars 4g

Protein 5g

10

%
---
Vitamin A

19

%

Vitamin C

49

%

Calcium

11

%

Iron

10

%
* Percent Daily Values are based on a 2,000 calorie diet. Your daily value may be higher or lower depending on your calorie needs.
Directions
Mexican Grilled Chicken
1
Place all ingredients (except Chicken) in a food processor or blender and blend until the liquid runs smooth and there are no chunks.
2
Place chicken and marinade in a bag and squeeze out all the air and seal. Refrigerate at least 2-3 hours up to overnight. (Overnight for best flavor)
3
Heat Grill to Medium High Heat and spray grill grates with oil, use duck fat spray. Grill chicken until there is no pink in the middle. 5 minutes per side.
4
Allow chicken to rest for about 10 minutes before cutting into strips. You can add skewers at this point for serving or serve platter style.
Chipotle Mayo Sauce
5
Add all ingredients to a bowl and whisk together.
Pico De Gallo
6
1. Add all the ingredients to a bowl and stir together. Refrigerate and hour or so before serving to incorporate all the flavors.
Serving
7
Place skewered chicken on serving plate
8
Drizzle the chipotle mayo all over the chicken
9
Top with the Pico De Gallo
Ingredients
Mexican Grilled Chicken
5
Boneless Chicken Breast
2
limes, zested and juiced
handful of cilantro leaves
Chipotle Mayo Sauce
2
limes, zested and juiced
Pico De Gallo
46
roma tomatoes, seeds removed and diced
3
tbsp
fresh cilantro, chopped
1
jalapeno seeded and diced