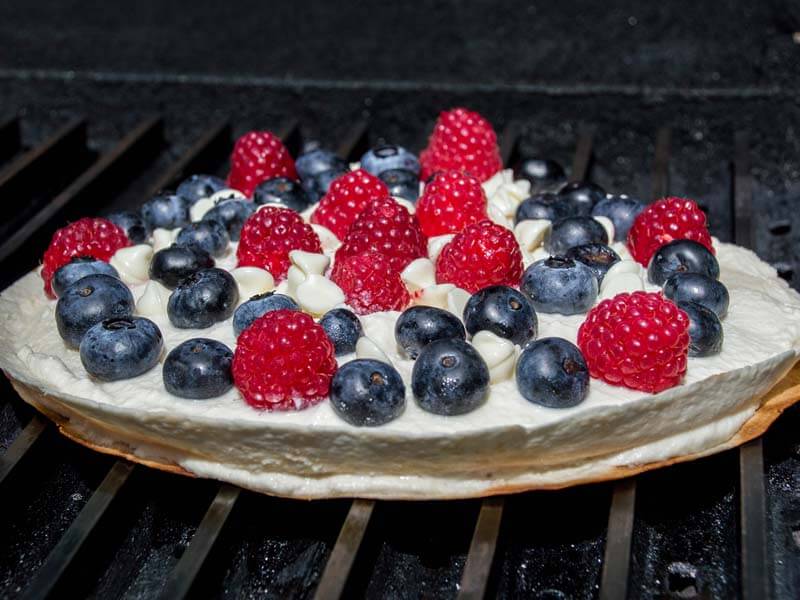 Red, White and Blue Dessert Quesadilla
Blueberries, raspberries, and white chocolate chips are a great dessert quesadilla that is easy to prepare and grill. Keep the grill warm after dinner and entertain your family and guests to a nutritious fruity dessert.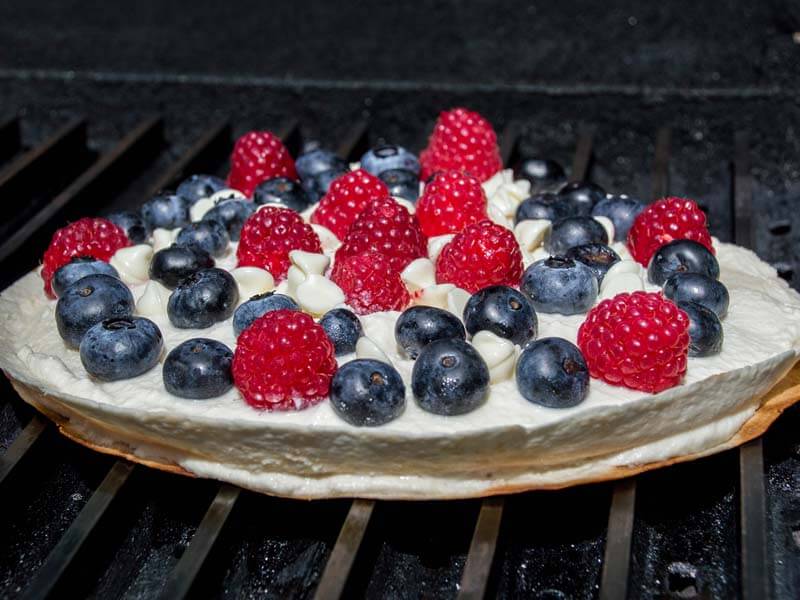 Nutrition Facts
Servings 8
---
Amount Per Serving

% Daily Value *

Total Fat 12g

19

%

Saturated Fat 8g

40

%

Trans Fat 0g

Cholesterol 9mg

3

%

Sodium 214mg

9

%

Potassium 19mg

1

%

Total Carbohydrate 44g

15

%

Dietary Fiber 2g

8

%

Sugars 28g

Protein 6g

12

%
---
Vitamin A

1

%

Vitamin C

7

%

Calcium

5

%

Iron

5

%
* Percent Daily Values are based on a 2,000 calorie diet. Your daily value may be higher or lower depending on your calorie needs.
Directions
1
Place the ricotta cheese, confectioners sugar and vanilla in a food processor or large mixing bowl. Thoroughly combine until the sugar has been completely incorporated.
2
Pre-heat grill to 400F at the GrillGrate surface. Be sure to clean the tops of the rails to avoid any grease getting on your quesadilla.
3
Spread 1/3 of the filling on one tortilla (this is the bottom)
4
Sprinkle semi-sweet morsels
5
Place 2nd tortilla on top
6
Spread light film of filling
7
Decorate top with raspberries and blueberries
8
Add a few more white chocolate morsels
9
Slide the Quesadilla off the cutting board onto the GrillGrates- close lid
10
Check in 3-4 minutes by slightly lifting an edge to see the sear marks
11
Quarter turn if dark searing or wait and quarter turn in 1-2 minutes. Close lid
12
Use The GrateTool to check for firmness of quesadilla. Crispy, firm is perfection.
13
Determine whether to give it a couple of more minutes or off it comes onto the cutting board.
Ingredients
1 Cup of white chocolate morsels
1 Cup of fresh raspberries
1 Cup of fresh blueberries
1/2 Cup Confectioners sugar