GrillGrates have long been synonymous with great steaks, but that does not mean our techniques and processes have not changed over the years. Most grillers hang their hat on being able to grill a perfect steak. My steak techniques, the cuts we grill most often, and the seasoning process has all changed as I continue to improve my steak-grilling game. Grilling perfect steaks is something I take pride in, and it's become a ritual around our house – especially Friday nights!
GrillGrates have proven to be an important part of the equation. No matter what grill you use, all that's really required is GrillGrates and a great piece of meat. Just add the heat. It's not just about gorgeous sear marks either. GrillGrates improve the taste, tenderness, and juiciness of steaks.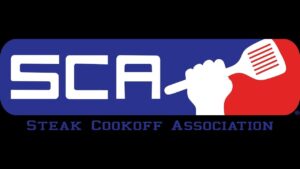 Grilling steaks have become a competitive food sport. The Steak Cookoff Association sanctions hundreds of "Steak Comps" around the US and around the world! The SCA's membership is approaching 7,500 members. Much of what I'm sharing below has been learned from the competitors of the Steak Cookoff Association.
So, what's the biggest thing I've changed in my steak-grilling process? I call it the Ruth Chris Kiss (say that 3 times).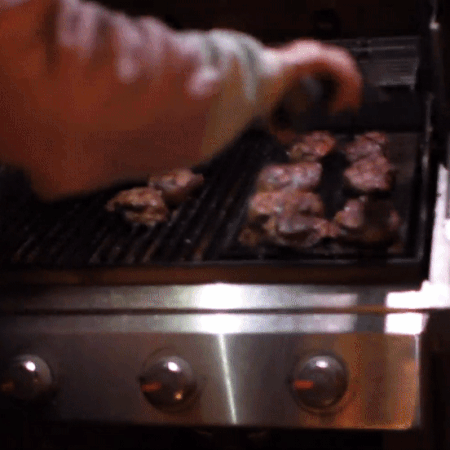 Ruth's Chris Kiss
While so much has been made of art-worthy sear marks and they certainly are a hallmark of GrillGrates, there is a way to get the best of all worlds. In the past, I only grilled steaks on the raised rails getting that perfect crosshatch or diamond pattern. Now I allow for 30-45 seconds of time on the flat side of GrillGrates at the end of the cook for a bit more overall browning. Maximize the Mailliard reaction with a bit more char without over searing. I would not suggest using the backside of the GG for the entire cook as it would result in a very hard, blackened exterior. I also do this for stuffed and larger burgers. For smash burgers, it's flat side all the way!
Build Me a Buttercup
Another simple trick to amp up the flavor and the outside crust is to add clarified butter or blends like garlic butter to the finished steak. Most SCA competitors incorporate the butter into their process. For the last few seconds of the cook, they baste the steak in butter or put a cold slab of butter in the center to melt and sizzle. Guys like Chris Lily have their own special butter that they make. Maybe I can pry Chris's recipe from him! Mark Lambert, creator of Sweet Swine of Mine rubs and sauces uses Rosemary stalks held by a rubber band as the brush. This adds flavor and flare especially when thrown into a charcoal fire after the basting!
Toppings for Filets, Strips, & Chuck-eyes.
Cuts such as filet mignon, tri-tip, and chuck eyes are ideal to add toppings. These cuts benefit from a boost of flavor from cheeses and sauces. We've been topping steaks with Gorgonzola cheese at the end of the cook. Be generous with your dollop of cheese and enjoy the added flavor as it melts and combines with the steak's juices. When you are temping your steak with an instant-read thermometer, add the cheese just before you are bringing the steak off the grill. Just 15-30 seconds is plenty to melt the cheese all over the steak.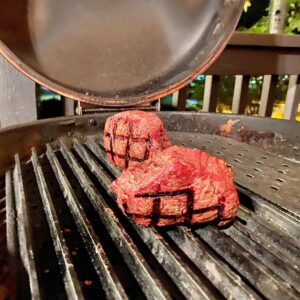 Speaking of Filet Mignon…
I've found myself buying the thickest tenderloin steaks I can find and grilling them a little differently than any other steak. Being so thick they actually have 4-6 sides to them. After searing both of the larger sides, I essentially stand the filets up on the raised rails and let them sear on their sides. This gives you more surface searing and the time needed to bring up the internal temp without overly cooking any one side.
TIP: IF the filets won't stand up, just lean them against each other.
Don't forget the Ruth Chris Kiss and a dollop of butter or cheese too!
Purchasing Craft Beef Online has become mainstream and not because of the Pandemic.
We've found premium meat purveyors packaging & shipping to be very impressive too!
Without a doubt, the final piece of the perfectly grilled steak is the meat itself. The quality of the meat from sustainable family farms and ranches far exceeds what's available at your local supermarket or Costco. We've been spoiled this year by our friends at Hassell Cattle Company (use GRILLGRATE10 for 10% off), Colorado Craft Beef, and Raikes Beef. I highly recommend them for the finest steaks we've ever eaten.
We'd love to hear from you about what techniques and processes you are using to grill your best steaks.